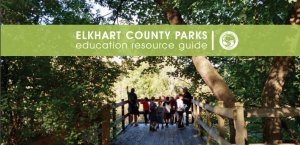 Click for a PDF of our full programming menu.
Elkhart County Parks offers interpretive programs focused in environmental and historical education. Programs are featured at: Ox Bow County Park, Cobus Creek County Park, Bonneyville Mill County Park, River Preserve County Park, Elkhart County Historical Museum, or in your own classroom!
The Elkhart County Parks Department believes that all students should have the opportunity for quality environmental and historical education. We welcome all students regardless of race, color, creed, national origin, sex, age or disability to participate in our programs. If you or your students have a disability requiring special accommodations for access to programs or facilities, please notify our office when scheduling your program.