Do you have a small wedding party with just a few guests? Are you looking for an intimate place in a park surrounded by blooms and nature to marry the love of your life?
DeFries Gardens, located in the heart of the River Preserve County Park, offers a picturesque backdrop for your wedding ceremony. Please keep in mind this is a public park with limited parking and the garden can only be rented for a two-hour time block. To learn more, read the Wedding Permit Form (PDF).
Directions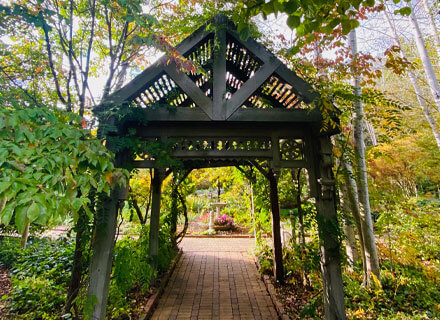 DeFries Gardens is part of River Preserve County Park at 17477 C.R. 46 in New Paris.
Directions: From IN-15 turn east onto C.R. 29 and follow for 2 miles. Turn left at the cross street onto C.R. 46 and follow for .3 miles. The Gardens will be on the left.
View on Google Maps
Reserve this shelter
Quick Info
Capacity: 50
Fee: $225
Security Deposit: $250
Features
Year-round calendar garden
Scenic botanical landscapes surrounded by lush woods
Panoramic patio overlook
Close access to hiking trails at River Preserve





See all shelters